I have too many browser tabs open again, because so many gaming goodies have appeared lately. To avoid browser meltdown and prevent brain aneurysm, I've shared links to some cool things below.
RPG Thoughts
Ryan Macklin gives us
The Art of Playstorming
, a quick guide to rapidly prototyping game rules with friends over coffee. Ryan explores a little of what the process can do, and some of what it can't or shouldn't do. The term originally sprung from the mind of
Epidiah Ravichol
, which brings us to...
Eppy posted
The Vile Rights & Arcane Rituals Behind Worlds Without Master
. For those of you not in the know, Eppy publishes a nigh-monthly Sword & Sorcery zine called
Worlds Without Master
containing fiction, comics, and games, funded by
the Patreon Horde
. This article lets us peek into his head to see how he determines when to publish, how he organizes an issue, and how it gets paid for (or doesn't quite). For those of you contemplating publishing, I suggest you invest 10-15 minutes in this treasure trove of information, especially the budget.
Found via
OSR Today
in
this cover article
, the
Tribality blog
has posted
Star Frontiers 5e Conversion Part 1
which starts translating the TSR Science Fiction setting Star Frontiers into the latest version of D&D ruleset. So far they've only talked about races and classes, but there's more to come.
On the RPG Theory front,
John Wick
draws a line in the sand to define RPGs with his article
Chess is not an RPG: The Illusion of Game Balance
. In his view, "the focus of an RPG is to
tell stories
". All the rules trappings that don't support role-playing, including equipment lists, most world mechanincs (as opposed to story mechanics), and worrying about game balance of the characters' abilities within the game, detract from telling stories. I've seen reactions ranging from total agreement to reasoned skepticism to outright rejection, but it makes me think about the core of the RPG experience. I may dig into this topic in another post.
Historical Topics
And speaking of RPG Theory, Emily Care Boss of
Black & Green Games
published an exploration of it in the well-researched article
Theory Roundup
. If you have any interest in early discussions of theory in RPG magazines, or Nordic LARP discussions at Knutepunkt, or a brief history of Forge Theory, or anything, read this. Be warned: the entire article is studded with hyperlinks, each of which will take you down its own rabbit hole.
Over on
Medium
, John Peterson explores the early history of women's involvement with wargames and RPGs in
The First Female Gamers
. Medium tells us to set aside 35 minutes to read it, and yes, that seems about right. If you have any interest in the early history of the hobby, invest the time. It's a fascinating read.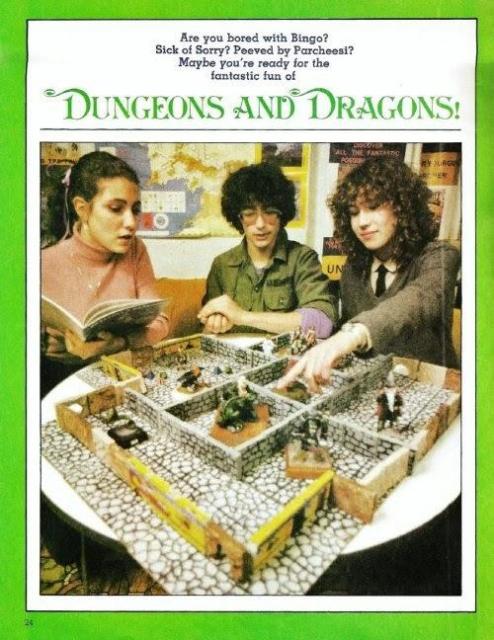 Dig that '80s style.
Also in the History of RPGs category,
How a Picture of Girls Playing D&D Went from Cool to Awesome
by
Sarah Darkmagic
digs into the history of an early '80s picture that's been making the rounds. It's not an ad, it's the cover art for an article in Dynamite Magazine. The article covers the research on uncovering the origins of the image and includes remembrances about the article from game designers and the photographer who took the picture.
Dave Younce shared a very cool
map of the Paris Catacombs
on G+. If that doesn't get your dungeon crawl muscles twitching and your creative juices flowing, I don't know what will.
New Products and Sales
For a limited time directly from
Night Sky Games
, Meguey Baker's
A Thousand and One Nights
PDF is on sale for only $5. As the subtitle says, it's a game of enticing stories, told to entertain and forward your political agenda through innuendo and allusion. There's also a free download of partially-constructed courtier characters for quick-start purposes.
For those of you into Monte Cook games,
DriveThruRPG is having a sale
. You have until 10/10/14 at 10AM Eastern Time to get
The Strange Corebook for 50% off
, only $9.99.
If the Mongoose OGL products are more your speed,
take a look at the DTRPG sale page
to find five OGL books on sale for just $1.99 each. I might just pick up
OGL Steampunk
or
OGL Cybernet
and mine them for ideas since they're so cheap.
On a Personal Note
I edited a couple of projects that became available to the public this week.
Firstly, Brent Newhall's
The Whispering Road
is available to the public (and not just Kickstarter backers). If you ever wanted to play in a world inspired by Studio Ghibli, pick this up. Now available at
DriveThruRPG
and in PDF & Print at
MagCloud
.
Also take a look at Matt Jackson's system-agnostic supplement
Side Treks 2: The Village Volume 1
. It details 5 establishments for your fantasy RPG party to part with their gold and get into trouble. Totally worth the investment just to steal the ideas and hand-drawn maps in color and B&W. Now available at
DriveThruRPG
.
Parting Shot
If you blog about RPGs and have newbie questions or hard-won wisdom about the hows and wherefores of blogging, come join the
RPG Blog Community Discussion
community on G+ to discuss all the meta issues that crop up.
DO NOT
post links to you blog there, or you will be chastised, flogged, and banned.
Thanks for reading!