So hey. Long time no see.
Suffice to day that my mental state hasn't been great over the past couple of years, and the pandemic took the wind out of my creative sails. But maybe it's time to change that and make something for the sake of making something. And when Dyson puts out a challenge, it's usually a good one.
So let's do this. #Dicember2021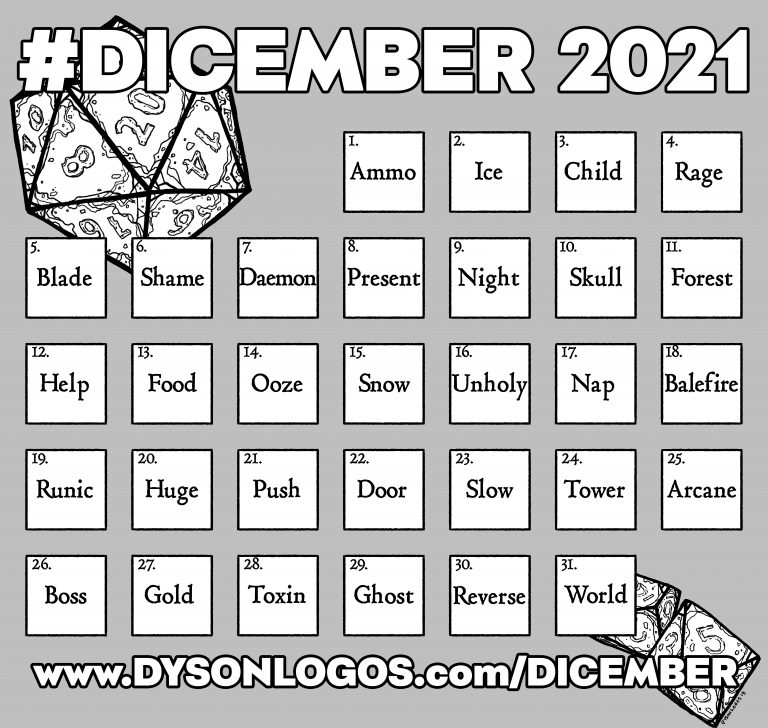 Now that it's the evening of the 6th and I'm somewhat physically ill, and after spending the day dealing with car registrations and loan applications, it's a perfect time to start a month-long challenge. Let's go.
I think I'll stick with a magical fantasy setting for this. Dyson's fantasy art sticks in my head as I think about the prompts.
I'm seeing a theme emerging, of useful items that can cut both ways and cause a bit of danger. It's mostly system-agnostic, but a few references to D&D specifics will undoubtedly slip through. Feel free to use these ideas, and please let me know how it turned out for your group.
Wombat's Dicember 2021 posts:
Ammo: Moonstone of Returning
Ice: Elemental Ice
Child: Child's Coin
Rage: Tapecutter
Blade: Dryblades
Shade:
Daemon:
Present:
Night:
Skull:
Forest:
Help:
Food:
Ooze:
Snow:
Unholy:
Nap:
Balefire:
Runic:
Huge:
Push:
Door:
Slow:
Tower:
Arcane:
Boss:
Gold:
Toxin:
Ghost:
Reverse:
World:
This is my attempt at the 31-part Dicember 2021 challenge, as created by Brian Bird and promoted by Dyson Logos.
#Dicember2021