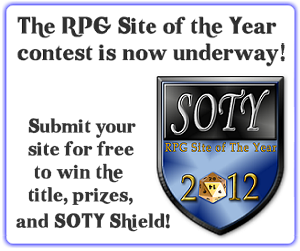 Earlier this week I entered
Stuffer Shack's 2012 RPG Site of the Year
contest. Wombat's Gaming Den of Iniquity is one of 20 listings with descriptions currently in the running. In scrolling through the submitted sites so far, I see
Gnome Stew
,
Gaming Tonic
,
Game Knight Reviews
,
Stargazer's World
,
Roving Band of Misfits
,
The Id DM
,
Glimm's Workshop
, and
the Kobold Quarterly blog
, among many others. I'm feeling a little green, both with lack of blogging experience and with envy at what all these sites have published in the same or less time than this place.
I don't think I'll win the Site of the Year competition.
And I'm just fine with that. I'll get some exposure, which will be cool. If I get some feedback from the judges, that would be awesome - totally unexpected, but awesome. But the biggest benefit to entering came from actually entering. I looked at what I've done so far and took some time to reflect.
I've been blogging fairly regularly (with the occasional month off) for a shade over a year and a half now. The first post after the 5 year hiatus posted on
September 14, 2010
. Since then, I've hosted an
RPG Blog Festival
which went really well, started writing up
Schrödinger's Gun GMing
,
psyched myself up for an Iron GM competition
in which I
didn't end up competing
,
went to PAX East for the first time
, summarized 30 years of gaming in
Wombat's Path
, mused about
formally training GMs
(which recently surfaced again - stay tuned),
found online communities of gamers in unexpected places
,
reviewed tabletop board games
, and generally rambled on about theoretical RPG nonsense punctuated by far too little actual RPG play. I found a lot of forgotten gems that I published and never revisited. But most of all, I wrote.
But What Does It Mean?
Writing up the submission made me take a look around and try to figure out what it all means. Yes, I'm talking about a Mission Statement here, but it's not as momentous and formal as all that. Here's what I came up with for the submission:
Nobody warns you that RPGs unfairly tip the scales, pushing more work onto the GM's plate and freeing the rest of the players to have more fun. The Gaming Den of Iniquity seeks to restore balance at the game table by exploring theories, systems, and structures to free GMs to create more awesomeness. Taking disparate ideas and fitting them together in a gaming context gives a new perspective on ways to work with everyone at your table. It's also a personal reflection on 30 years of gaming, with experiences and anecdotes continuing to collect as time goes on.
Already I want to edit this, such is the thought process of an editor. But it sums up what I've been doing here - taking disparate ideas and fitting them together in a gaming context to help lighten the workload on GMs. Like
taking techniques from Agile project management and adapting them for your game
.
I believe everyone at the table should have fun. For me as a GM, that means having a system or structure to fall back on that informs decisions I can't even conceive of before sitting down to play the game. It takes the load off of the GM and offers a way to think that doesn't require exacting preparation to cover all possible contingencies.
"We're on a mission from God"
totally works in a gaming context.
And it may be all you need for
your game's mission statement.
Using Mission Statements in Your Game
A Mission Statement can take some of the load off in your game. If you have a solid idea of what you want out of your game, write it down and refer to it during play. You don't need to write War and Peace, in fact that's counterproductive because you'll never be able to keep track of that many ideas. Just jot down some touchstones that are important to you and your game, and keep them in mind as you're confronted with choices during play.
Yes, I'm an improvisational GM. But that doesn't mean I don't prep before a game. I need tools in place before the creative spark ignites a new story at the table. And that's one reason I'm writing up
Schrödinger's Gun GMing
. I've done other approaches and ideas that aren't quite so involved, and hopefully I'll have others as time goes on. So please stay tuned.
One other thing about Wombat's Gaming Den of Inquity
This is more of a dilettante blog, not a business blog. I'm doing this for fun, not for profit. I may never make a dime on what happens here, though I'd like to at some point. We'll see how the future unfolds.
In the end, I'm writing to organize my own thoughts. Yes, this means it'll get crazy in here. Yes, I may never have a schedule of upcoming posts, though I'm consistently updating at least once a week now. Yes, I may confuse or even anger people with my words, though I hope to avoid anger as much as possible.
If you get something out of what's posted here, please let me know. I'm thrilled to get feedback. But I've learned to never expect it. Blogging is akin to screaming into the void - there's no guarantee anyone will even hear you, never mind understand what you're saying or take the time to scream back. You take an idea, you put it out there, and you see what happens, if anything.
I'll keep on putting gaming ideas out there, because my brain is full and making connections all the time. I hope you like at least some of what you read.
And as always, thanks for reading!